BRM Institute Expands Professional Development Opportunities for BRMs with Self-paced BRM Fundamentals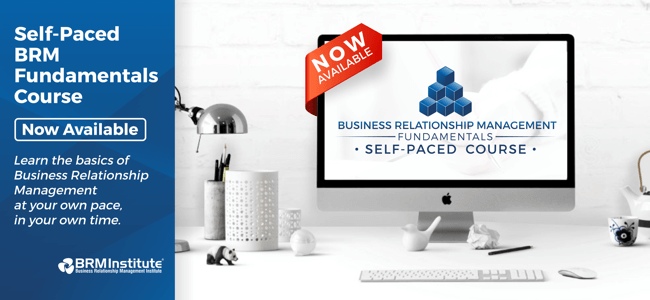 With great demand and as a part of our continuous efforts to further Business Relationship Management (BRM) professional standards, BRM Institute is excited to announce the release of BRM Fundamentals in a new learning format, self-paced!
BRM Fundamentals is a one-day class designed to facilitate an understanding of foundational BRM knowledge. In this class, participants will learn about BRM as a capability, role, discipline, and philosophy. They will also learn what a BRM does and does not do, acquire the language needed to change perceptions and perspectives, and learn how the BRM discipline interacts with other disciplines (project management, architecture, business analysts, business functions, strategy, etc.) inside an organization. Basic introductions to the different frameworks, processes, and models to bring structure and guidance to BRM are also presented.
This self-paced instruction is constructed in such a way that the learner proceeds from one topic or segment to the next at their own speed and in their own time. 
The course–open to everyone at any level and from any role–is designed to facilitate an understanding of BRM Fundamentals through advancing an organization's existing BRM capability and advancing the learner's professional development.
Leave a Reply
You must be logged in to post a comment.