Relationshipism- The Theory for Our Connected World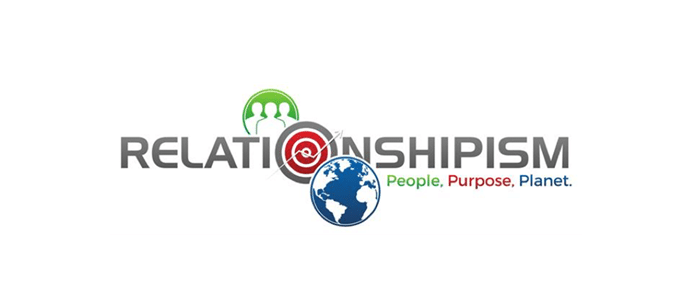 The revolutionary theory of Relationshipism was defined and unveiled one year ago at BRMConnect 2019 in New Orleans. At the time, it was nothing more than a statement, a recognition of current states, and a belief in an equitable future.
Fast forward one year to BRMConnect Virtual 2020, and the well-defined theory of relationshipism is being practiced by organizations across the globe. Such organizations are hungry for change, want to serve a greater purpose, and aim to contribute value to society forever
During BRMConnect's virtual relationshipism presentation, Maureen Jesuthasan, MBRM®, explained the current state of humanity and the problems inherent in modern society.
Around the world, people feel a profound sense of disconnection and isolation. This isolation stems from a constant connection to their technology, which creates a bombardment of noise – high levels of conflicting information – which is too much for any one person to handle alone. This leads to unprecedented levels of anxiety and depression, contributing to an environment where people live in a constant state of fear.
This leads people to hold false, negative assumptions of others, which leads to a loss authenticity and joy in everyday life. This fear and loss of joy degrades trust, leaving people to feel less than whole, and profoundly unconnected. The current trending solution is to keep a distance from our neighbors, and attempt to fill this hole with technology, which only leads to more noise and more anxiety.

Humankind was intended to rely upon one another for support and guidance; however, the ability to know how to establish authentic connections has been lost…until now.
Relationshipism- Satisfying the Triple Bottom Line
Relationshipism returns connection to humanity by bringing awareness to what really matters in life and business: relationships.
Definition: Relationshipism is the theory of being relationship-centered in all aspects of life and especially in organizations. It promotes trusted teams, a mindful focus on authentic relationships, increased personal power and fearless creativity. Relationshipism, being built on principles of cognitive science and social intelligence, provides infinite value as it expands the focus of society from shareholder value to the satisfaction of personal purpose, organizational purpose, and societal impact.
Specifically, relationshipism empowers organizations that want to move people out of a state of fear into one of innovation, trust, and meaningful work. Organizations are powerful vehicles for change with the potential to create lasting impact. This change comes from within the organization, from the relationships which define and evolve its culture. Ultimately, the relationship-centered organization drives infinite value by satisfying the triple bottom line of People, Purpose, and Planet.
The Societal Impact of Organizational Culture
Organizational culture is the reflection of all the current and past relationships between people having anything to do with the organization. This includes customers, politicians, activists, and society at large. A 2018 Edelman Earned Brand study revealed 64% of consumers around the world are belief-driven buyers. They believe companies can simultaneously generate profit and improve economic and social conditions for their local communities. The brands that contribute to their communities are more likely to adapt to society's changing needs and continue earning trust and brand loyalty.
Organizations stuck operating under a profit-driven bottom line, which is heavily influenced by the Industrial Revolutions, may prioritize short-term gains over long-term survival. Contrastingly, organizations that satisfy the triple bottom line evolve their reason for existence to meet the needs of society-at-large. By constantly adjusting to serve a society that values them, these organizations not only survive long-term, but thrive indefinitely with evolving purpose.
Certified B Corporations, or B Corps, exemplify the organization that satisfies the triple bottom line. "Certified B Corporations are businesses that meet the highest standards of verified social and environmental performance, public transparency, and legal accountability to balance profit and purpose. B Corps are accelerating a global culture shift to redefine success in business and build a more inclusive and sustainable economy."
50,000 organizations have undergone a B Impact Assessment, with 3,500 registering as Certified B Corporations.
Society values the triple bottom line. Organizations like B Corps are demonstrating its potential. What's more, executives recognize the need to evolve, with 99% of CEOs believing the integration of sustainability will be important to the future success of business.
Across all levels of organizations, people are ready for this change. They are ready to break the cycle of fear and guide humanity in a more purposeful direction that balances human needs with planetary sustainability. Relationshipism provides the means to make this happen and drive infinite value.
Relationshipism satisfies the triple bottom line by driving value through relationships. As mentioned previously, these relationships form an organization's culture. The culture is an energy source of unlimited potential, renewable through highly effective work relationships. While individuals have unique abilities and creativity to contribute, the power is multiplied by the quality of the relationships they have with one another. A high proportion of effective work relationships, founded upon a meaningful purpose, provides the energy source for creating infinite value.
"Relationshipism has changed my perspective of looking at the most important aspect of our life, Relationships. I feel it has existed since the beginning of humanity, but we never realized the art and science behind it. R's, the best work relationships, were the building blocks of my journey and that has led us to drive the infinite value.
Passion never dies, it lives on, until you decide when it ends. It grows with your dreams, it gets stronger with your talent. It becomes larger than anything you imagine, it becomes limitless and you become the infinite. This theory of Relationshipism has certainly fueled my passion to build authentic and meaningful relationships and become limitless or even the infinite." – Shubham Jain, BRMP®
How to Generate Infinite Value as an Individual
Take a moment and think about the best work relationship you ever had. Picture that person in your mind. Think about what you accomplished together, the fun you had, and the creative sharing and mutual growth. Now, imagine that same kind of relationship existed between you and everyone in your immediate team. What could you get done? Now, imagine that existed between everyone who has anything to do with your organization. Would the value potential of your organization be limitless, or even infinite?
The potential energy to drive infinite value starts with you. You create individual value through purposeful work.
The more authentic relationships you and your peers build with others the more organizational value is realized. When whole organizations collaborate with a greater shared purpose, they drive societal impact. This shared purpose evolves with the changing needs of society into the future, contributing towards infinite value.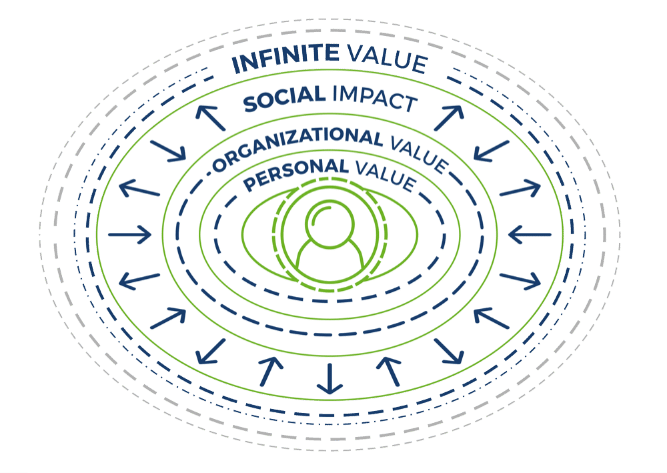 Ultimately, organizations become planet-focused, recognizing they cannot exist in a world inhospitable to life. This greater purpose identifies organizations as collaborative players in an infinite game, where there are no winners and no losers. People do not exist in opposition to one another. Neither do organizations. Our unique ability to collaborate helped humans survive this far. It is time to evolve and help both humanity and the planet we inhabit, thrive. Relationshipism points the direction.
"Working with the Theory of Relationshipism has been a tremendously rewarding experience. This is a paradigm that resonates so deeply for me and it is wonderful to see how it does for others as well. Although it is volunteer work, it is truly meaningful work and has shown me what is possible in other work spheres of my life, for this I am truly grateful.
Relationshipism has taken a number of important values for me and condensed it into one concept and one word. I have added it to the core of my organization and it is something that I am aware of every day when I deal with people, when I strive for more purpose in my work and when I think about the footprint I create on our planet. The mission of Relationshipism is the triple bottom line of People, Purpose and Planet. It is now part of my mission, too." – Baziel Barends, BRMP®
Relationshipism is a membership-driven global movement that only achieves what its individuals contribute. If you would like to support the movement, you can start by doing any one of the following:
Join the Relationshipism Global Practitioners LinkedIn Group. Learn from leaders and add your voice!
Generate enthusiasm for Relationshipism through social media. Like, comment, share and support using #relationshipism.
Learn more by visiting the Relationshipism page.
Volunteer your time and talent to inspire the world. Join the Relationshipism Team.
Incorporate Relationshipism into your core organizational values. Reach out to our team for guidance.
The best thing you can do for relationshipism is to practice it daily in your work and spread the word. Infinite value for a better world starts with you.
Leave a Reply
You must be logged in to post a comment.