Addressing COVID-19 and BRMConnect 2020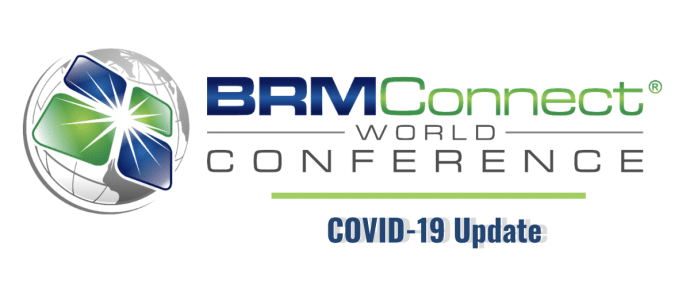 With major events cancelling across Europe over the past few days, we know that many in our community are asking questions about this year's BRMConnect in Boston and Amsterdam.
With BRMConnect Boston due to take place in late August (24 weeks away) and BRMConnect Amsterdam due to take place in late September (29 weeks away), the BRM Institute team continues to plan confidently for the conference. We currently have NO plans to postpone or cancel.
We're incredibly grateful for the ongoing support of our sponsors and attendees who continue to register and plan for the conference and we've not experienced any substantial impacts so far.
Additional Information
The BRM Institute team remains in close contact with our partners in Massachusetts and in the Netherlands, as well as the relevant health authorities. As this unprecedented situation is changing every day, we remain watchful, but also focused on delivering what is an extremely important event for the single global BRM community.
Mindful of our duty of care, we're also carefully considering and consulting with experts on what the appropriate sanitary, health and other measures should be. Aaron and I assure you that all appropriate measures will be in place at BRMConnect 2020.
COVID-19 is presenting the business events and travel industries with an unprecedented global challenge. The BRM Institute team are passionate believers in, and advocates for, the substantial social and economic power of meetings and events. Like you, we know the negative long-term impact of speculation, hype and over-reaction will be damaging not just to our industry, but also to your local communities and business as a whole.
We feel strongly that it is our collective responsibility to focus on the facts and to act with common sense and sound judgement, taking the advice of the relevant authorities and scientists. We couldn't agree more with Gloria Guevara, President and CEO, World Travel & Tourism Council (WTTC), when she stated, "containing the spread of unnecessary panic is as important as stopping the virus itself."
Please keep checking here, as we'll be updating it regularly as the situation evolves and ensuring it contains links to the most reliable and relevant industry resources.
BRM Institute plans to continue the event with the health and safety of our attendees, staff, and volunteers as our top priority. We look forward to welcoming you to BRMConnect in Boston in August and/or BRMConnect Amsterdam in September and wish you, your business colleagues, your communities and your families good wishes and resilience in the months to come.
-Joe and Aaron
Board of Directors Chair, BRM Institute
CEO, BRM Institute
Update 3/24/2020
BRM Institute has received numerous questions regarding registration and canceling registration for the 2020 World BRMConnect Conferences in Boston and Amsterdam.
At this time, we still believe that our two programs will be able to run in August and September, and we have no plans to extend the Early Bird Discount period. To lock in your savings of up to $700 including the Early Bird and Continuous Membership Discounts, register by March 31st.
Of course, we understand the need for flexibility based on your individual circumstances, and to make sure you feel confident in registering, we stand by our policy of offering a credit to any attendee who wishes to cancel. Your credit would be valid for the 2021 BRMConnect Conference or can be transferred to another attendee for the 2020 or 2021 BRMConnect Conference.
As always we are grateful for the support we continue to receive from those continuing to register and for trusting us to deliver World Class Professional Development.
Leave a Reply
You must be logged in to post a comment.