BRM Courses and Workshops at BRMConnect 2020 Events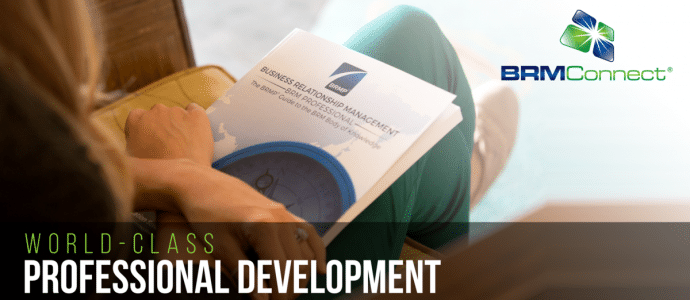 We are excited to announce the Registered Providers (RPs) facilitating BRMP® courses and BRM Fundamentals workshops. Additionally, we're thrilled to be offering Applied BRM, Exceptional BRM, and Design Thinking workshops at our upcoming BRMConnect 2020 events! 
BRMP® Course:
The Business Relationship Management Professional (BRMP) course is a three-day course that immerses the student in the principles of Business Relationship Management. The BRMP training and certification program is intended for Business Relationship Managers, with the training and certification designed to provide a solid baseline level of knowledge.
BRMP @ BRMConnect Boston
Friday, August 21 – Sunday, August 23, 2020
BRMP @ BRMConnect Amsterdam
Friday, September 25 – Sunday, September 27, 2020
BRM Fundamentals Workshop:
The BRM Fundamentals workshop is an introduction to Business Relationship Management as a capability, role, and discipline. This workshop provides a primary basis of BRM understanding to ensure a successful journey through the KPTS. This workshop is designed for anyone looking to understand BRM and its fundamentals, open to everyone, at any level, and in any role that wants to learn more about interacting with and/or how to achieve success through BRM.
BRM Fundamentals @ BRMConnect Boston
Sunday, August 23, 2020
BRM Fundamentals @ BRMConnect Amsterdam
Sunday, September 27, 2020
Applied BRM Workshop:
Just getting started with BRM, want to master the BRM basics, are you a strategic BRM looking to expand your skills and bring new thinking to your organization.  If any of these ideas fit your current situation, then be sure to review these new day long sessions with leading BRM practitioners who will walk through each topic in detail, answer your questions, solve your challenges and then also allow for room interaction from those around you on the topics listed.
Are you just getting started or want to refresh on the core knowledge?  This one-day workshop is designed to walk you through the basic core knowledge for BRM success.
Relationship Maturity Assessment: In order to create and actualize the greatest business value opportunities, providers are converging with businesses in greater numbers than ever, resulting in working relationships with various levels of shared ownership for results.
Business Capability Roadmap: Business Capability Road mapping is a way to clarify Business Capabilities needed to implement business strategy and the People and Technology Capabilities needed to enable those Business Capabilities.
Strategic Relationship Plan: Business partners require the ability to articulate the vision, current status, and value coming out of converged relationships, as well as a means of maintaining a simple historical perspective of the business unit or value stream. A strategic relationship plan is comprised of all of these components.
Communication Plans: What, to who, and when needs communicated from a BRM and A BRM team
RACI Isn't Enough : The ROSCI siloed functional areas inside organization around the globe, forcing single accountability and the 20th century hierarchical management approach. Learn the new approach to shared ownership and why it is critical for agile environments
Applied BRM @ BRMConnect Boston
Sunday, August 23, 2020
Applied BRM @ BRMConnect Amsterdam
Sunday, September 27, 2020
Exceptional BRM Workshop:
As an experienced BRM, you've scaled the Relationship Maturity Model and have gained the trust and respect from your business partners and you are now ready to bring your impact to the next level.  This one-day workshop will give you insights on how to ensure BRM is seen as the most valuable role and discipline in the organization.
Establishing the Top-Level Goal for Your Function: Do you know your functions purpose? Do you know why it exists inside the organization? Helping your functional leaders understand why and how to move from siloed functions to true converged strategic partners with shared ownership of strategy and results.
Starting a BRM Community of Practice: Review the basics of beginning and maintaining a central BRM community of practice in your organization
Creativity / Innovation Center: Review an approach to foster a culture of innovation inside your organization
Stay Current Plan: Stability and speed require systems and processes that are routinely updated. Do you have a plan in place to keep your systems and process current?
BRM Financials: What is the role of a FINBRM (Financial BRM)?
BRM Competency Assessment: Review the BRM competency assessment and how to map where you are and how to improve
Communication Plans: What, to who, and when needs communicated from a BRM and A BRM team
Success with Councils: Explore how BRMs gain traction with the different councils within their organization.
Exceptional BRM @ BRMConnect Boston
Sunday, August 23, 2020
Exceptional BRM @ BRMConnect Amsterdam
Sunday, September 27, 2020
Design Thinking Workshop:
BRM has evolved from its initial goal many years ago to just connect IT with "the business" into a full-fledged, respected organization that holds a high level of strategic value. When done right, BRM can become one of the most effective roles in an organization. It connects capability with need, opportunity with growth, and innovation with vision. Successful organizations come to rely on BRM – and find other areas to use the BRM model throughout the enterprise.  Like any other new function, role, or initiative, BRM must continue to evolve or risk losing its momentum. Executives will question the return on investment, partners will seek higher levels of impact, and top talent will want to be part of something that genuinely makes a difference or find other avenues for career growth. BRM cannot simply focus on the basics or mechanics. It must have a vision for its future and seek to deliver on the "promise" of BRM.  This workshop will prove beneficial to anyone who wants to take their BRM program to the next level and make real, appreciated, and actionable changes to their company or organization.
This Design Thinking Workshop is designed to help BRMs and organizations evolve and meet the promise of the role to become an agent of change in their company or organization, positively impacting business strategies, plans, and results.
Bringing new thinking and ideas to business partners using Design Thinking
Identifying ways to decisively affect the bottom line, including cost savings, cost avoidance, and investment leveraging
Learning how to incorporate three key ingredients – empathy, creativity, and accomplishment – to make BRM an indispensable resource for business partners
Identifying opportunities that challenge the status quo, inspire new growth, and create competitive advantage for your company
Empowering business leaders with knowledge of technology trends to help them make more informed decisions on future goals
Establishing strong, collaborative relationships with IT (or other service provider organizations)
Design Thinking @ BRMConnect Boston
Saturday, August 22, 2020-Sunday, August 23, 2020
Bundling the Conference with your training and certification is ideal, giving you the perfect opportunity and environment for you to invest in your career.
When we get right down to it, organizations have very few expenses. Instead, they have an enormous portfolio of investments that live somewhere in the "expense budget." When it comes to your career, be the investment. When you do so and use BRM tools to manage value, you'll find that getting training approved isn't a problem at all.
Leave a Reply
You must be logged in to post a comment.