The Certified Business Relationship Manager (CBRM) Guide to the BRM Body of Knowledge is available to order!
Want a discount? No problem! Professional members, your $100 discounted price is available when you log in to the shopping cart.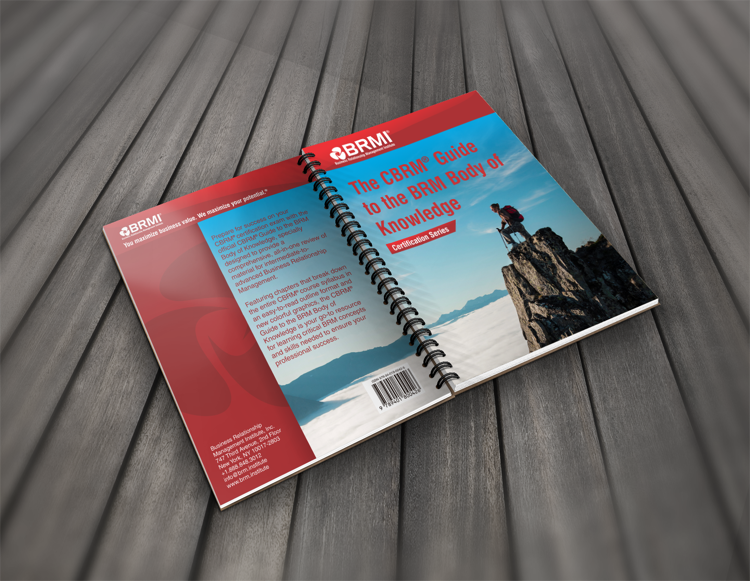 FAQs
Q: Is the CBRM guide different than the BRMP guide?
A: Yes! The CBRM guide has over 200 pages of tools and techniques that you can put to work right away.
Q: Can I access the CBRM content online?
A: Yes! The content is available in our interactive Body of Knowledge, available to BRM Institute professional members.
Q: Can I download a PDF or ebook of the CBRM guide?
A: No. At this time, accessibility to the content is available through our iBOK to professional members only and by way of the printed book.
Q: I am planning to take the CBRM course later this year. Should I just wait until the course to buy the book?
A: If you can purchase the book in advance, it is recommended. The CBRM course is a four-day, jam-packed session with a lot of material. Purchasing the book in advance and familiarizing yourself with it will help you to navigate the material during both the course and the exam.
Q: I'd like to purchase CBRM guides for my team and business partners. Are there discounts available for larger orders?
A: Yes! Please contact us and we will work to get a quote for you. [email protected]
Q: The price for the CBRM is slightly higher than the price for the BRMP guide. Why?
A: The CBRM guide is strategically designed to be a greater value for our members. Graphics are available in full-color, and a spiral bind makes the book much easier to work with as a reference guide – either as part of your working day, or in taking the CBRM exam.
Q. Do I need both the CBRM and BRMP Guide?
A: If you are working as a BRM or aspire to work as a BRM, both the CBRM and BRMP guides are a value to you in your work. The BRMP guide is more foundational, while CBRM is more advanced.
Q: What "went in" to creating the CBRM guide?
A: The Certified Business Relationship Guide to the BRMiBOK is the culmination of over 15,000 hours dedicated by industry leaders in both the business relationship management and education spaces through over 18 months.
Q: I have approval to purchase the guide, but need some help getting approval for the CBRM training. Can you help?
A: Absolutely. For help on this, please reach out to us for assistance in building a value-focused business case for CBRM certification.
Q: Why should I buy the guide?
A: Not only will this book give you the guidance to be a great BRM, but in addition, the CBRM exam is open book in which you may use this guide only to pass the exam.