The Original Business Relationship Management Professional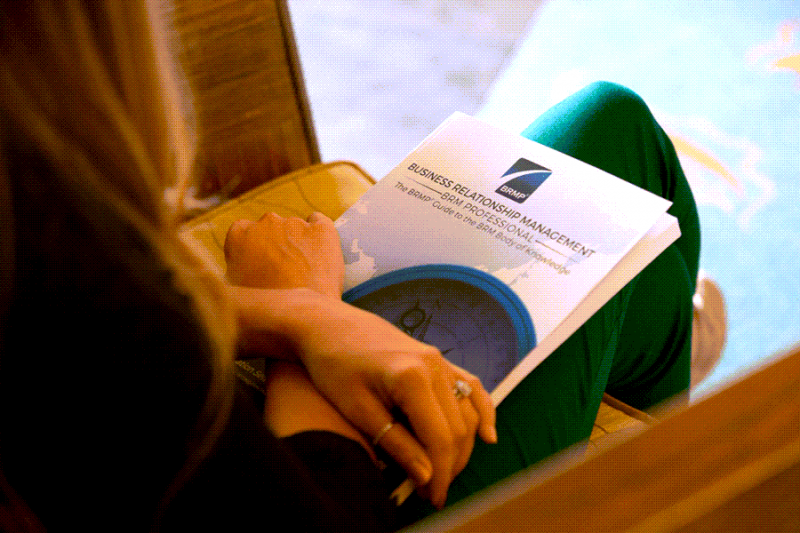 The original BRMP® course offering & materials are now available in FIVE additional languages! All thanks to YOU, the single global BRM community!
The original BRMP® training and certification program is intended as a comprehensive foundation for Business Relationship Managers at every experience level, with the training and certification designed to provide a solid baseline level of knowledge.
The exam format is closed book, 50 multiple choice questions in a 40-minute duration.
This version of the BRMP will be retired on October 1, 2022
BRMP® Learning Objectives
Holders of the BRM Institute Business Relationship Management Professional (BRMP®) credentials will be able to demonstrate their understanding of:
The characteristics of the BRM role.

What it means to perform as a strategic partner, contributing to business strategy formulation and shaping business demand for the provider's services.

The use of Portfolio Management disciplines and techniques to maximize realized business value.

Business Transition Management and the conditions for successful change programs to minimize value leakage.

The BRM role in Service Management and alignment of services and service levels with business needs.

The principles of effective and persuasive communication
Upon class enrollment, you will be eligible for one-time, special priced (half-off regular price) Introductory Membership. The Introductory Membership with BRM Institute provides you with an opportunity to get involved in the global BRM community, interact with peers, and shape the future of the BRM discipline. Ask your trainer for details!
BRM Overview
Be able to explain the goals and objectives of the BRM role.
Understand why the BRM role is gaining importance and how it is evolving in response to business and provider forces.
Explain the concepts of Business Demand Maturity and Provider Supply Maturity and how these impact the BRM role.
Understand the drivers of relationship maturity and be able to differentiate between tactical and strategic BRM roles and how these relate to order taker, trusted consultant and strategic business partner.
Be able to explain common BRM reporting and organizing structures.
Strategic Partnering
Understand "Demand Shaping" as a means to increase value realization from provider investments, services and assets.
Be able to use a Strategic Relationship Management Process and Tools to strengthen business partner and provider relationships.
Understand how and where to engage in your business partner's decision cycle.
Co-develop, with your business partner, a Relationship Strategy-on-a-Page as a mutual Relationship Contract.
Business IQ
Understands the industry and its ecosystem
Understands the business model, business strategy, business processes, and operations
Understands the organization, roles, politics, and culture
Understands and applies the disciplines of Value Management
Portfolio Management
Understand how Portfolio Management is the central mechanism for a Value Management Process.
Understand how to apply Portfolio Management to the entire life cycle of provider investments, from managing new investments, optimizing existing investments and retiring old investments.
Understand the relationships between Project, Program and Portfolio Management and how these work together to optimize business value.
Be familiar with two common Portfolio Classification schemes and how they are applied to achieve a Portfolio Balancing.
Understand how governance processes and structures are used in support of Portfolio Management.
Business Transition Management
Understand what Business Transition Management is, why it is important to BRM, and the components of a Business Transition Capability Model.
Understand how to create urgency for stakeholders.
Understand the key roles to be orchestrated for successful business transition.
Understand key change leadership concepts.
Understand the importance of clarifying the change details and typical methods for achieving clarity.
Understand how the Cliff Analogy illustrates all key factors in managing a transition
Provider Domain
Understand the value-centric definition of a service.
Understand the important distinctions between Products and Services and the implications for the BRM.
Understand the different aspects of service value and how service provider constraints impact the role of the BRM.
Powerful Communications
Understand the components of 'powerful communications'.
Understand how to influence those over whom they do not have direct control.
Be able to express themselves through a unique value proposition.
Available Translations
BRM Institute is evolving courseware into multiple languages. Discuss your needs with your Registered Provider when scheduling your session.
Latin American Spanish
France French
Canada French
German
Italian
English
BRMP Contributors
Development of BRMP is made possible by the BRMP Content Development Team, which is comprised of renowned Business Relationship Management (BRM) experts, trainers, game-changing BRM practitioners, and senior business executives ranging in academics, government, and industry from all around the globe. Generously volunteering their time to add value, experience and rigor to the body of knowledge, Business Relationship Management Institute is grateful to these people and their organizations, provided here.