BRMConnect Virtual 2020 Early Bird Discount Ends Soon!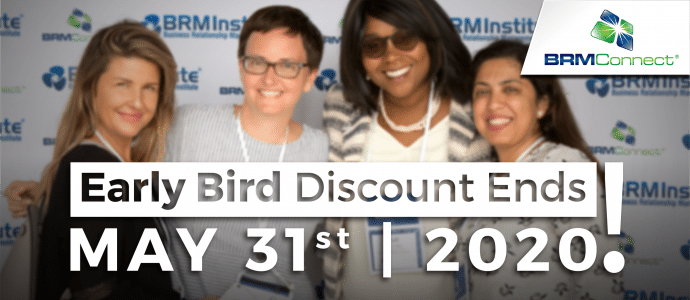 2020 World BRMConnect Virtual 
August 24 to August 28, 2020
You don't have a lot of time to take advantage of the BRMConnect early bird pricing!
Early bird discount of $100 off registration rates ends on May 31, 2020!
Save an additional $100 by being a BRM Institute Member for a total of $200 in savings! Combine group, member, and early-bird discounts for even more savings!
Professional Member Rate
Standard Rate
$499 USD
$399 USD*
$599 USD
*499 USD*
*Early Bird Rate!
| August 24-28, 2020 | August 29-September 30, 2020 |
| --- | --- |
| Attend sessions live through our virtual platform! | Watch sessions on demand! |
| Sessions will be made on demand, so you can learn at your own pace! | Continue to engage with attendees and Storytellers from around the world! |
| Engage with attendees from all around the world! | |
| Visit sponsors at their virtual exhibit booth! | |
BRMConnect Virtual is THE place for relationship driven innovation. BRMs don't just stay in their roles, they advance them. BRMs help build loyalty and stability in every organization. In a landscape of increased turnover and job dissatisfaction, join other professionals from around the globe virtually and discover why!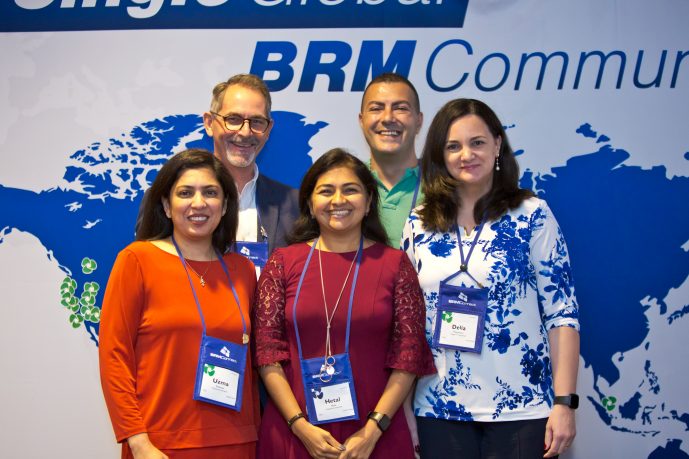 "I liked the diverse options of subjects to attend, interaction, and pragmatic approach to many of the topics.  This wasn't a place to come sit down and watch PowerPoint presentations; it was an engaging, relevant, and motivating discussion.  I walked away with many ideas and new approaches to current situations, as well as new contacts who have experience in what we're working on."
"…I've attended many conferences where the tone is limited to the review of current state best practices, which fails to push the imagination. Each time I attend BRMConnect, I feel that I am tapping into the future because the topics are fresh and forward-thinking. The experience is made all the more exciting because I am surrounded by like-minded people who are not satisfied with maintaining the status quo."
"I left [BRMConnect] in awe of the talented and driven individuals I'm proud to call my colleagues and with renewed energy to break through the barriers and achieve greatness!"
Leave a Reply
You must be logged in to post a comment.