2020 BRMConnect On-Demand
If you were unable to attend this year's 2020 BRMConnect Virtual, you can still access the valuable recorded sessions and live Q&A with BRMConnect On-Demand until September 30th. This may be a brand new way of experiencing a conference, so BRM Institute wants to make sure you have the tools to make your virtual experience the best it can be!
Networking and Fun!
BRMConnect Lounge
Wanting some face-to-face connection with other attendees? Hangout in our Virtual BRMConnect Lounge one per week (schedule) chat with attendees from around the world.

BRMConnect Lounge OPEN WEEKLY from 12:00pm-1:30pm EDT

Wednesday, 9/2 

Tuesday, 9/8

Wednesday, 9/16

Wednesday, 9/22

Tuesday, 9/30
Discussion Feeds
There is a Discussion Feed for almost everything! Chat with attendees within your Industry or Region. Ask questions in the Session Discussion Feeds, or Chat with Sponsors to learn more about their services.
To chat follow these steps:
Navigate to your desired feed. Industry and Region Feeds are listed under 'Networking'
Session Feeds live in each session's page on the Agenda
Sponsor Feeds live in each Exhibitor page under 'Exhibitor Area'
Attending Sessions
Recorded Sessions
All sessions are recorded and on-demand, and you can view the presentation by the following these steps:

Navigate to the session page at the listed time.
Under Resources, Click View (Session Name) to start the presentation.

Videos will be available in the Resource Center as well.
All presentations will be available on-demand through September 30th.
To attend a Recorded Q&A Session, follow these steps:

Navigate to the session page at the listed time.
Click play to start the stream.
Agenda
Agenda
Filter sessions by Program, Track, Live, Q&A, Networking, and Knowledge Offerings
Bookmark vs Register
Bookmarking a session saves it with all of your bookmarked items for quick reference
Registering for a session saves it to "My Agenda"
"My Agenda"
Sessions you register for will appear in "My Agenda"
These sessions can be filtered by Program, Track, Live, Q&A, Networking, Knowledge Offerings, sessions you're registered to, and bookmarked sessions
Web Based App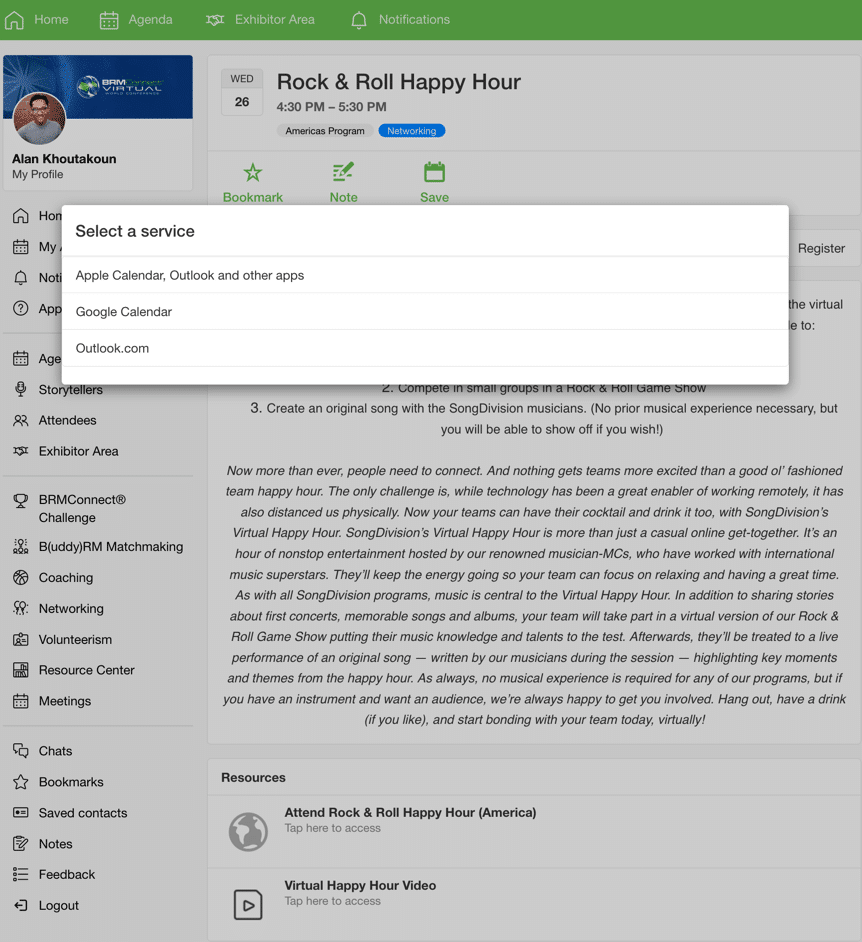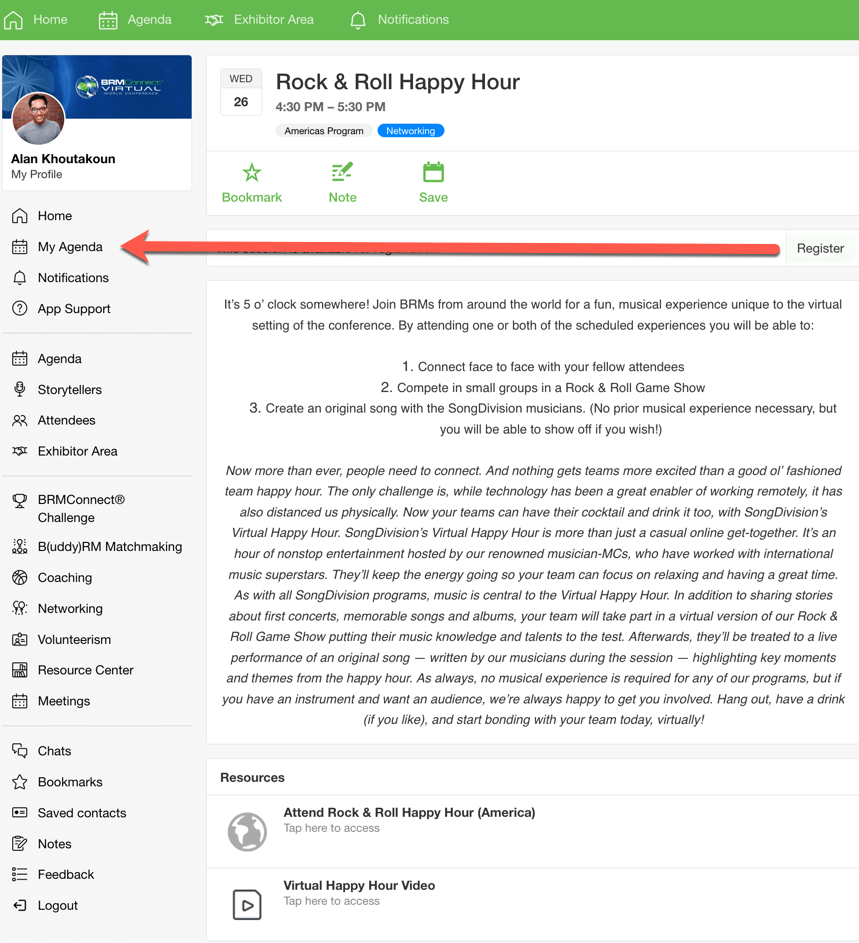 Tablet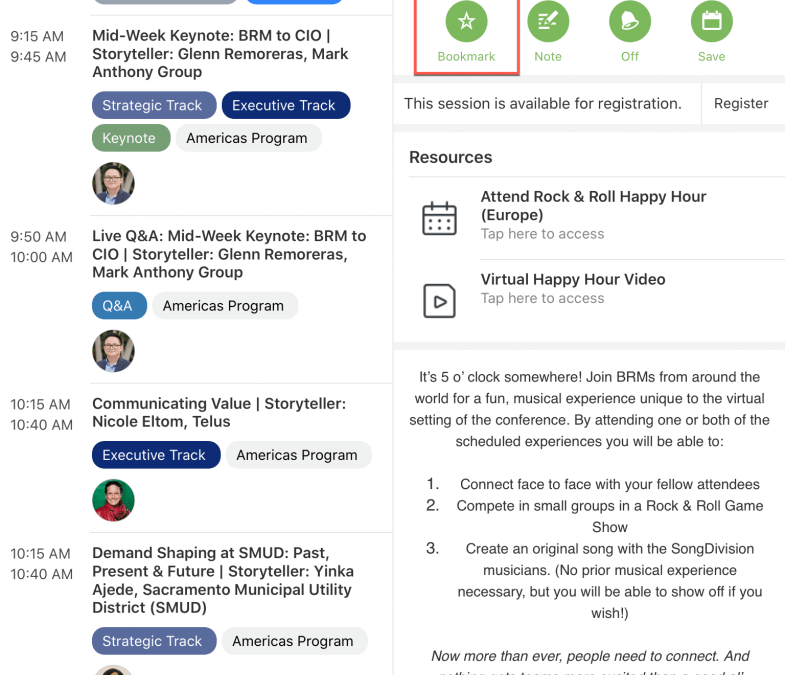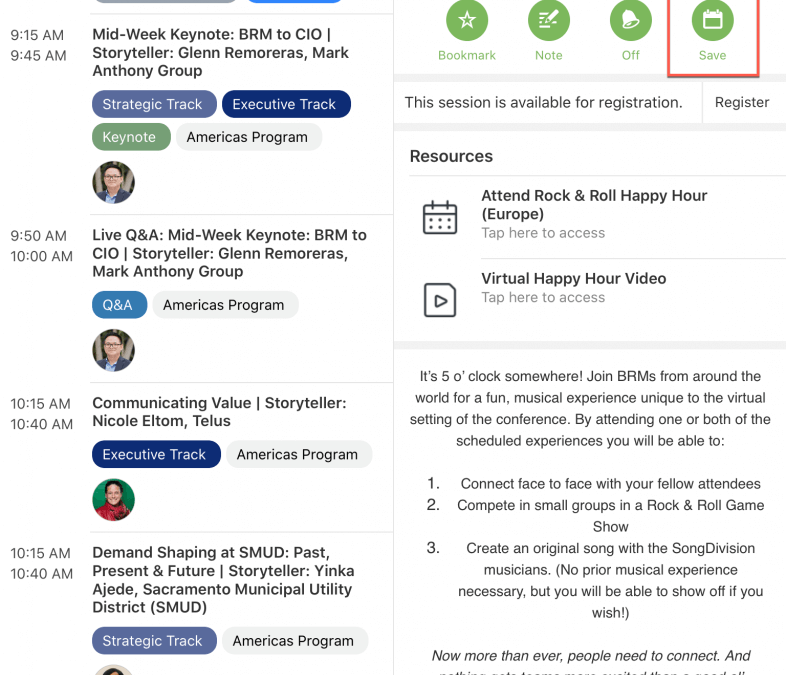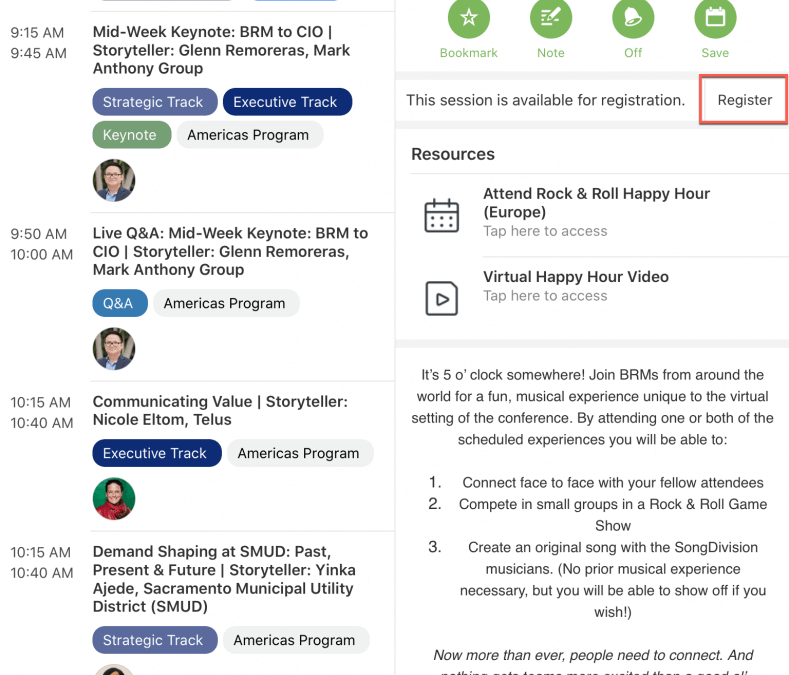 Mobile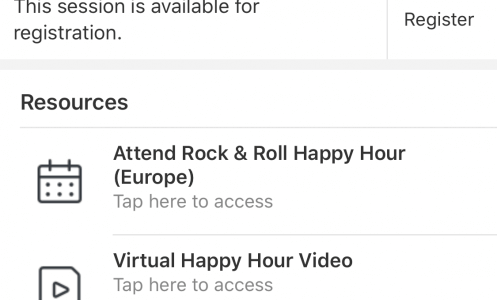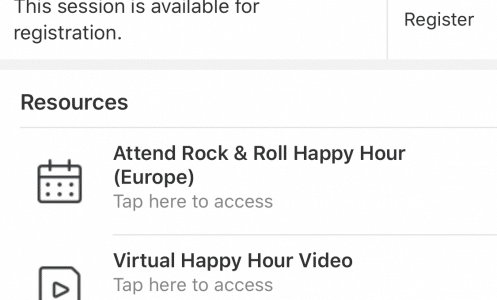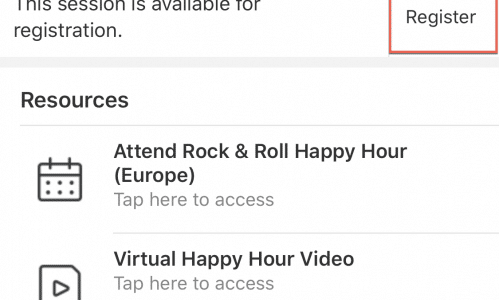 The Virtual World 2020 BRMConnect® Conference is brought to you with help from these BRM global community sponsors: