BRM Knowledge Providers
BRM Institute's sponsors are hard at work developing new, FREE, educational content for the BRM community.  This BRM Knowledge Provider webpage will be updated with new content as it's released, so check back often.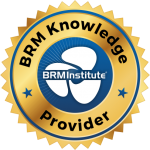 Webinars and White Papers
Leveraging platforms, such as ServiceNow, to Enable Success for Business Relationship Management (BRM)
As a BRM, we build partnerships, evolve culture, and drive business value. Our work is about propelling the organization toward success.
So how can we find time to meet with partners and shape demand while we're trying to track business unit strategy, strategic relationships, idea documents, value plans, and all the artifacts we need to create visibility across the organization?
Many BRMs leverage a platform to provide visibility into strategy, ideas, and value management. Platforms can allow us to make Requests, Incidents, and Demands on behalf of our business partners, as well as perform other essential activities:
Track Business Unit and Enterprise Strategies and Goals
Link Strategies and Goals to Key Performance Indicators (KPIs)
Follow KPIs throughout the Value Framework and Delivery Lifecycle
Provide Visibility and Interactions with Business Units
Track and Report on Action Items
Monitor Risks, Issues, and Decisions