Contribute Powerfully to the BRM Profession: Participate in the BRM Benchmark TODAY!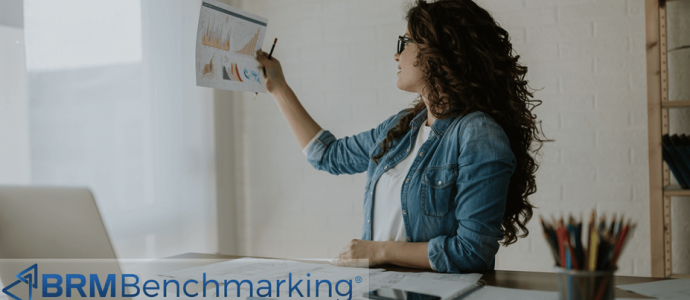 Every organization has a BRM Capability. Moreover, every organization on the planet can bring BRM to life within a team or across the enterprise, both visible and behind the scenes.
Through interviews and authentic discussions, the compiled advice from BRMs across all varieties of experience, industries, and team sizes within the single, global community has pointed to the same resource as invaluable.
That resource is the BRM Benchmark.
"You can't be it if you can't see it. That's why the BRM Benchmark and this global community are so important; as is the sharing of the continued benefit and achievements of the BRM role."
In other words, Benchmarking is a short way of saying, "making and learning from useful comparisons." It is easy to make comparisons, but it is harder to learn from them. For several ways to lessen the struggle in learning from meaningful comparisons with the BRM Benchmark, click here.
 Keep reading to get a sneak peek into some of the valuable data and insights the 2019 BRM Benchmarking Compensation Report yielded. This information was gathered and synthesized from BRMs just like you participating in the Benchmark and contributing powerfully to the BRM Profession.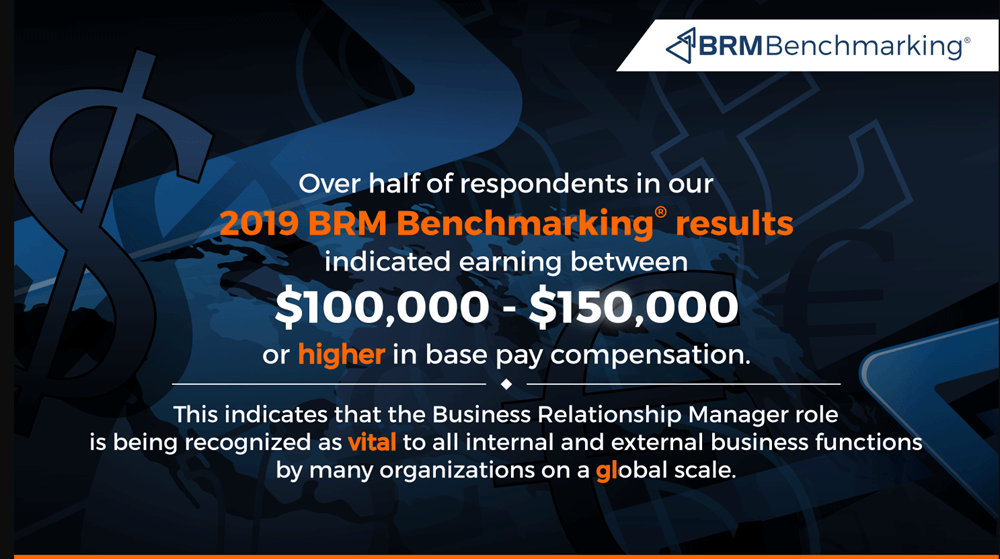 BRMs Take Professional Development Seriously-
More than half (66%) of respondents hold at least one type of professional BRM training or certification, which is an excellent sign that BRMs take professional development seriously. The most common training certification held being Business Relationship Management Professional (BRMP®) (57%) and Certified Business Relationship Manager (CBRM®) (9%).
Interestingly, BRM Benchmarking® revealed that BRMs who possess a CBRM® training certification earn 14% higher compensation on average than BRMs who do not.
Focusing on Higher-Level Business Function Leads to Higher Compensation-
There are a wide variety of roles that BRMs consider important to work with and spend the most time engaging with. When it comes to the importance placed on working with certain roles, BRMs who make more than $150,000 place the highest importance on working with portfolio management (59%), architecture (46%) and business capability management (44%). On the other hand, those who make $75,000 or less place the most importance on working with project management (52%) and service managers (45%). Clearly, focusing on the higher- level, strategic business functions is associated with higher compensation levels while more tactical functions are associated with lower compensation levels.
Compensation Increases as Value is Realized-
Another set of questions not initially thought to correlate with total compensation also turns out to be related. It appears that individuals who have higher total compensation levels also report a higher percentage of projects with clear organizational ownership for value realization and recognition. On the flip side, individuals with lower total compensation levels report that a higher percentage of projects were wasted. These data suggest that when organizations value the BRM role and the work BRMs perform, higher compensation follows.
Well-Run Companies Tend to Pay BRMs More:
One of the questions asked in the benchmark, not initially thought to relate to compensation, turns out to be a fairly good predictor of total compensation levels. When a company is well- run, communication is efficient internally and externally. This study reveals that BRMs who are more highly compensated report higher levels of agreement with the statement "information and feedback quickly reach employees throughout my organization." Thus, organizations that are good at communicating are better functioning and end up paying their BRMs (and likely other employees) more. It is also an indicator that the BRM capability is improving organizational culture and creating value.
For a more in depth explaination of the BRM Benchmark, check out this webinar for more details!
Do you want to impact the lives of others in a profound way? You can do so by sharing your knowledge, skills, tools, and experiences with other professionals seeking paths to grow and learn.
The BRM Benchmark increases in value as more BRMs answer the benchmark questions, so help yourself while helping the global BRM community and add your entry into the benchmark today!
Leave a Reply
You must be logged in to post a comment.