2019 BRM Benchmarking® Compensation Report Reveals CBRM® Certified BRMs Earn 14% Higher Compensation on Average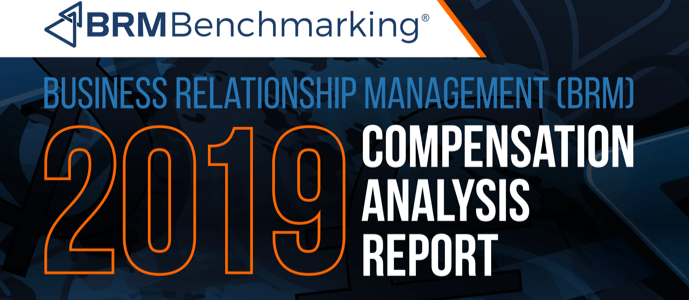 Excitingly, today marks the release of the first comprehensive Business Relationship Management (BRM) compensation report made possible through the interactive BRM Benchmarking® program!
The BRM Benchmarking program continuously collects responses from professionals across the globe on subject areas including compensation (salary), organizational culture, BRM demand and value, BRM capability, and strategic relationships.
The 2019 BRM Benchmarking Compensation Report is based on the responses collected from BRM professionals across the globe, during the timeframe of October 2018 to September 2019.
Interestingly, one of the many findings from the report revealed that BRMs who possess a Certified Business Relationship Manager® (CBRM®) training certification earn 14% higher compensation on average than BRMs who do not.

Additionally, over half of respondents in our 2019 BRM Benchmarking results indicated earning between $100,000 – $150,000 or higher in base pay compensation / salary. This indicates that the Business Relationship Manager role is being recognized as vital to all internal and external business functions by many organizations on a global scale.
Common Questions Addressed by BRM Benchmarking
What's the ideal number of BRMs for a given business context?
How does BRM's time allocation impact results?
What are leading practices around budgeting and funding a BRM capability?
How do BRMs measure success?
What career paths do successful BRMs typically follow?
What tools and platforms do BRMs use and with what results?
How does your BRM compensation compare to others in your industry?
Seven Reasons to Participate in BRM Benchmarking
Effectively Identify Performance Improvements and Value Opportunities
Discover where you Lead or Follow
Improve Communications with a Shared Language
Realize Methodologies to Improve
Stimulate Ideas
Create a Business Case for Change
Establish a Baseline to Improve Upon and Track Progress
"BRM Institute's interactive BRM Benchmarking capability is the definitive review and analysis of BRM-related practices, performance, and impact across the globe. We will continue to build, expand, and improve this program over time providing organizations a means to find value and leverage the wisdom of their global communities, allowing them to make informed decisions based on quantifiable data."
We would like to thank every benchmark participant who contributed towards an improved understanding of current BRM compensation trends, as well as Kip Fanta Group for their sponsorship of this research and their continued support of the global BRM community. We're looking forward to continuing to support this benchmark platform and to building on it for years to come to benefit our single, global BRM community and their organizations.
BRM Institute's mission is to "Inspire the World Through BRM". This is done through globally recognized standards, certifications, research, professional development opportunities, volunteer and networking experiences. We will continue to provide a home for professionals who leverage the BRM community and BRM standards to satisfy purpose, evolve culture, build partnerships, and drive value.
The BRM Benchmarking Compensation Report is brought to you by:
BRM Benchmarking increases in value as more BRMs participate and provide valuable insights. So, help yourself while helping the single, global BRM community and add your entry into the benchmark today!
Leave a Reply
You must be logged in to post a comment.